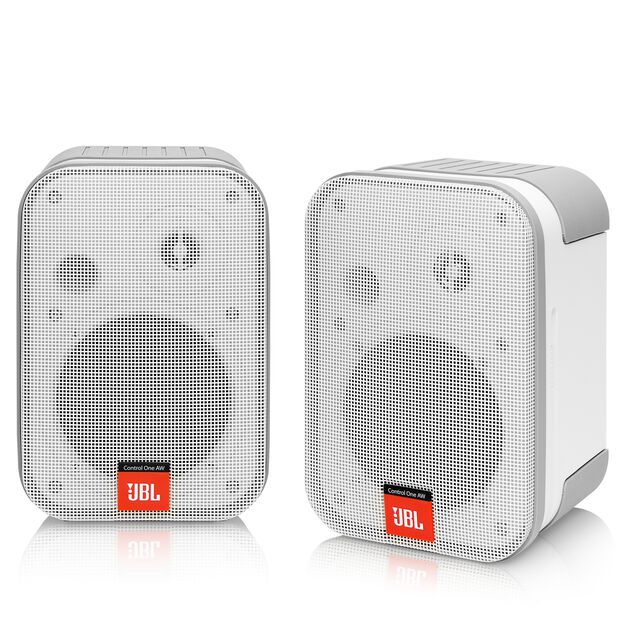 Control One AW
Details
http://pl.jbl.com/CONTROL-ONEAW.html?dwvar_CONTROL-ONEAW_color=White-GLOBAL-Current
---
Dwudrożny monitor 100mm odporny na warunki atmosferyczne
25 – 200 watts suggested amplifier power range
JBL engineers designed the Control One AW bookshelf loudspeaker to deliver enhanced, room-filling sound from a compatible AVR (audio/video receiver) or 25- to 200-watt power amplifier.
Two-way speaker configuration
They're low profile at just 9 inches (229 millimeters) high, 6-1/8 inches (156 millimeters) wide and 5-1/2 inches (140 millimeters) deep, but the JBL Control One AW's two-way speaker design and quality cones reproduce a wide range of frequencies for realistic, room-filling, can't-believe-your-ears imaging.
4" (100mm) woofer and 1/2" (12mm) titanium-laminate tweeter
When the JBL name is on a speaker such as a Control One AW, you know you're getting big, room-rocking bass straight from the professional recording studio. Titanium technology in JBL tweeters is another studio idea. Titanium's strength and light weight make it perfect for quickly and accurately reproducing crystal-clear high frequencies without strain or distortion, even when the volume is cranked up.
Outstanding audio output
Sure, they're personal-size, but each Control One AW speaker offers a peak power-handling capacity of 200 watts. That much power ensures distortion-free reproduction of your favorite music.
Wide, accurate frequency response
Nothing in the Control One AW is over- or underemphasized. Delivering a frequency response of 80Hz to 20kHz, this speaker reproduces the full range of sound from deep bass tones to ultrahigh frequencies. With JBL speakers, what you hear is true.
All-weather construction for the outdoors
With JBL products, you always get quality speaker cabinetry, because it's vital to great sound. The JBL Control One AW has to go a step further, since we've built it with weather-resistant materials for the unpredictable outdoors. Bring on Mother Nature.
Easy setup
Want to mount Control One AW speakers on a wall? The package includes a pair of wall brackets.
Take great audio performance throughout your house – and even outside.
Kolumny JBL Control One AW to wytrzymały i kompaktowy monitor, który wpycha ponad 60 lat doświadczenia JBL do niepozornego, odpornego na warunki atmosferyczne pudełka. Dostępne w parach w kolorze białym, głośniki Control One AW pozwalają cieszyć się pełnią ulubionej muzyki lub filmów we wszystkich Twoich ulubionych miejscach w domu i na zewnątrz.
Udostępnianie